Farrowing crate for sow
Farrowing crates is designed specifically for sows to feed and nurture piglets. It can effectively prevent sows from accidentally stepping on piglets.
Also, farrowing crates provide a cooler area for the sow and warmer areas for the young pigs.The flooring is designed to keep the pigs dry which reduces the spread of enteric diseases.
Farrowing crates also allow the pork producer to assist in the birth process of pigs. Farrowing crate mainly includes the galvanized metal fence, stainless steel trough, sow and pig drinker, metal and plastic flooring, insulation lamp, insulation cover and other components.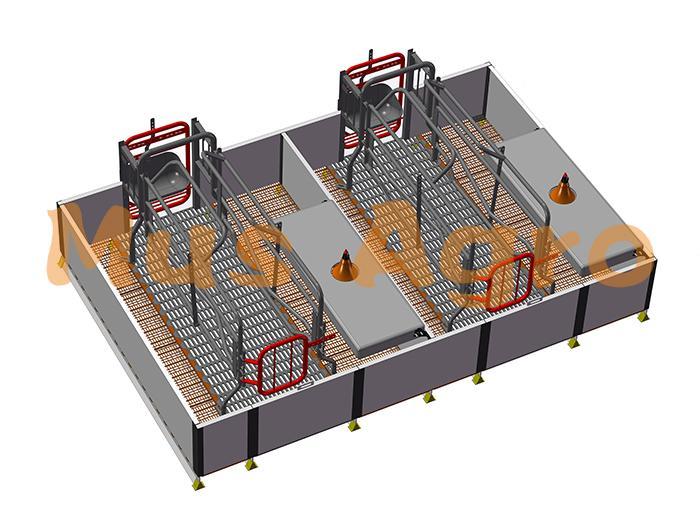 Technical Data
| | |
| --- | --- |
| Dimensions | 2.4x1.8m; 2.4x3.4m; 2.4x3.6m |
| Sow Crate | Galvanized steel pipe, stainless steel accessories |
| Sow area floor | Galvanized steel bar weld floor/Casting iron floor |
| Piglet area floor | Anti skid plastic slat floor |
| Surround Fence | High strength PVC board |
| Warming method | Open warming cover with light/Close warming box with light |
| Feeding trough | Sow stainless feeder and small feed pan for piglet |
Advantages
Robot welding, field anti-acid and alkali, corrosion resistance, long service life.
Easy for sow step in and out of the crate, sow position can be adjusted according to the needs of the location, guarantee sows smooth production, the back door open as a whole
Crate width for sow can adjust according to sow size to prevent sows accidentally stepping on piglets
Designed free channels at the back of crate, easy for piglet walk and move
PVC plastic plate fence , surface smooth and no burr, will not scratch the piglets, effectively block the spread of bacteria, high mechanical strength, good insulation effect, reduce piglets diarrhea rate
---